Welcome from the Chaplain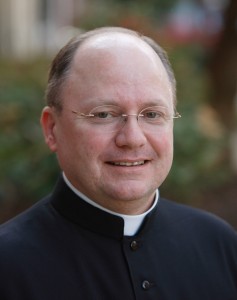 Since its founding, Angelus Academy has been committed to promoting Catholic values, tradition and culture, as well as academic excellence. I am happy to say that Angelus students continue to pursue these ends and to flourish spiritually, socially and intellectually. Moreover, their success is built on the united commitment and efforts of parents, teachers, staff and benefactors, expressed by their generous dedication of time, talent and treasure.
In today's post–Christian culture, there is nothing more important that we can give our children than a genuine Catholic education—an education that embraces pursuing, understanding and living according to the truth revealed in nature and by Christ in His Holy Church. And seldom will you find a better place to experience this kind of first-rate, thoroughly Catholic education than at Angelus Academy.
It is an honor to have the opportunity to give spiritual and sacramental assistance to the staff and students of Angelus as their chaplain, as well as to be able to offer them the continuing enthusiastic support of my parish, St. Raymond's.
I hope that you will join me and my parishioners in recognizing this as the incredible place of Christ–centered learning that it is, and in continuing to support this wonderful school in any way you can. May our Blessed Mother keep us all in her tender care, and may the Holy Angels continue to guide the children of Angelus Academy in growing in wisdom and grace before God and man.
Yours in Christ,
Fr. John C. De Celles, STL

Chaplain, Angelus Academy
Pastor, St. Raymond of Penafort Catholic Church
The mission of Angelus Academy is to infuse young lives with the truth of Catholic teaching at the very beginning of their vocation as students. It permeates every aspect of school life, from the daily routine of classes to community and parish outreach.