Angelus Academy Testimonials
I am a graduate of Angelus Academy and Saint John Paul the Great Catholic High School. In the fall, I will be attending Virginia Tech as part of the Honors College. Angelus Academy provided me with a solid foundation in my faith that prepared me for the bigger world of high school. For obvious reasons, the religion courses at Angelus helped me to fly through the religion courses of John Paul. But on a deeper level, the faith that was present in everything at Angelus helped me to stay strong on my journey at John Paul.
In high school, I encountered people who did not have the same views as me, and I was able to explain to them the reasoning in my beliefs. Angelus Academy taught me to defend myself well, which helped in many bioethics debates. Finally, I found that I knew more about basic points of the Catholic faith than my other classmates. I firmly believe that this was due to my Angelus education.
Another important aspect that I took away from Angelus is what you hope to receive from any school, academics. I like to say that I did very well in high school. I ended with a 4.4 cumulative GPA; I was an active participant in math, Latin, and national honor societies; and I was captain of the girls' varsity soccer team for 2 years. Of course, a lot of my success is due to hard work; but Angelus provided the foundation for me to learn how to work for greatness. The teachers always pushed us to do our best, and those lessons became habits as I went through high school. The ambition that I developed from my time at Angelus and that was reaffirmed at John Paul helped me gain a spot in the Honors College at Virginia Tech, which is hard to accomplish as a freshman.
I am eternally grateful to all of my teachers and classmates at Angelus who pushed me to always do my best in every aspect of my life. As I approach the even bigger world of college, especially a large public school like Virginia Tech, I expect that I will need my strong faith and academic foundation more than ever. I know that the education and preparation that I received from my two previous schools, coupled with the strength and knowledge that Our Lord provides for all of us, will get me through it.
– Kaitlyn Hurley, Angelus Academy, Class of 2012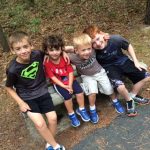 We are fortunate to live in an area with many good schools, public and private.  We send our boys to Angelus because of the excellent faith formation.  The faculty and staff emphasize the development of virtue, which is our top priority in raising our sons.  At Angelus, they are learning a lot about the world, and gaining many important academic and practical skills, but what we appreciate most is the way that the school supports our efforts to properly form their conscience in a world that has forgotten (or rejected) so much of the message of Christ.
– Joe and Christina Cautero
"Learning about God, wonderful staff…loving school"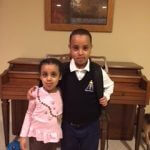 Our son attended a Fairfax County Public School for kindergarten and first grade. While he enjoyed his school and made lots of friends there we wanted a smaller school where he would get more attention and most of all learn to respect God. The summer of 2016 was hard for him, knowing he was going to a different school. It was very hard on mom as well as I tried to explain why the new school was a good idea.
At the beginning of this school year, his wonderful first grade teacher (thank you, Mrs. McCrumb), assured me that he would be fine in a few weeks. In mid September, we joined friends from the neighborhood for a movie night at his old school. I was afraid this would again start a conversation about why he was going to Angelus. To my surprise it didn't. In fact, when parents and friends asked him if he wanted to come back to his old school, his answer was a firm "No". He explained how much he liked his new school and how he liked learning about God. It took him just a couple of weeks to adjust to Angelus Academy.   I knew then that he was going to be fine at this special school. The small class size with the wonderful staff at Angelus has helped him to be a very happy and a more confident boy. We feel very blessed to have a loving school close by with a very dedicated staff.
– Emmanuel Family
The mission of Angelus Academy is to infuse young lives with the truth of Catholic teaching at the very beginning of their vocation as students. It permeates every aspect of school life, from the daily routine of classes to community and parish outreach.